RT-SuperDigest™ Honeybush Vanilla Tumeric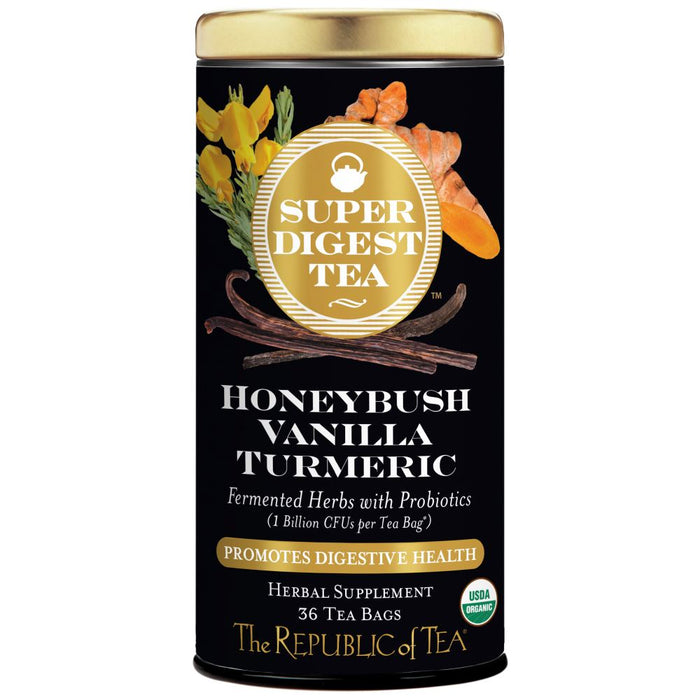 Fermented Honeybush, Vanilla Turmeric tea for digestion

Honeybush, a native herb from South Africa, has a mildly sweet, honey-like flavor and a wide range of health benefits. This fermented tea is enhanced with aromatic vanilla bean and finished with a touch of earthy turmeric.

Sip 1-5 cups on a daily basis to support overall health.*

Each tea bag contains 1 Billion CFU's (Colony Forming Units) per tea bag at time of manufacture. The probiotic Bacillus subtilis supports healthy gut functions and remains viable under a wide temperature range.

Our ancestors discovered that fermenting foods into such things as wine, kombucha and yogurt, not only preserved them but improved their healthful properties with easier digestibility and nutrient absorption.* We have sourced and blended great-tasting fermented herbs and maximized the digestive benefits by adding probiotics.* Sip daily and support your overall well-being in each delicious cup.

Natural Products 2020 NEXTY Finalist for Best Tea


Bustle wants you to know how Organic Honeybush Vanilla Turmeric SuperDigest Tea™ fits into your bedtime routine!
The Best Bedtime Routine To Help You Relax
Due to our innovative ingredients, settling of dust may occur.
Additional Details
*These statements have not been evaluated by the Food and Drug Administration.This product is not intended to diagnose, treat, cure or prevent any disease.
Caffeine
This herbal blend is naturally caffeine-free. More about caffeine.
Steeping Instructions
Steeping herbal tea is easy. Simply heat fresh, filtered water to a rolling boil. Then pour 6 oz of water over tea and steep for 5-7 minutes if using a tea bag or full-leaf.
Ingredients
Organic Honeybush (leaf); Organic fermented turmeric (root); DE111® Bacillus subtilis (probiotic), Organic vanilla flavor and Organic vanilla extract.
Calories
0