Melitta® Tea Filter 40ct.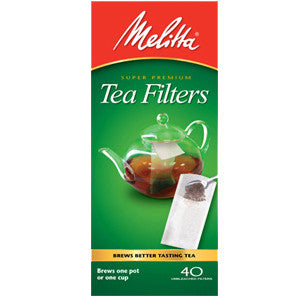 LOOSE TEA FILTERS – 40 CT.
Made from high-quality, strong, unbleached bio-degradable paper. Melitta tea filter's gusseted bottom allows it to freely stand for better saturation, and finely woven micro pores enable the water to flow through the bag for better steeping. They won't slip into your tea. The 7 ¼ inch length enables you to fold the top over the edge of teapot or cup for easy removal.
Holds enough tea or herbal leaves to brew an entire pot, or just one cup.

Pack of 40 filters.
Our Filter Selection