Capresso SG220 12-Cup Stainless Steel Coffee Maker with Glass Carafe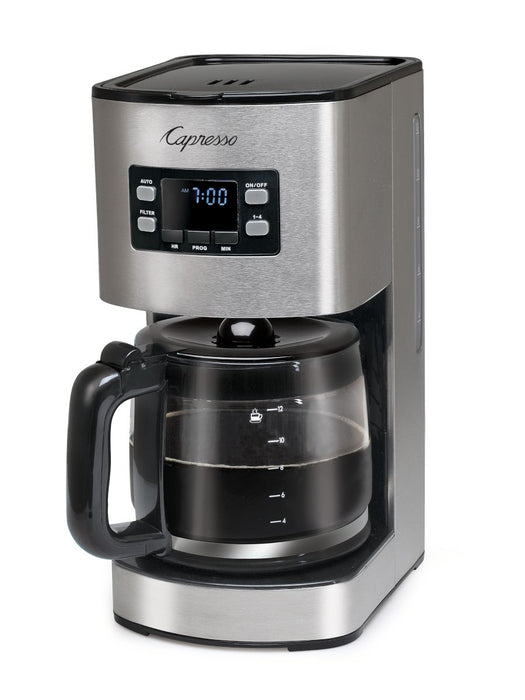 Features and Benefits
Brews 12 cups (60-oz) of coffee
Dishwasher-safe glass carafe
Reusable GoldTone Filter eliminates the need for messy paper filters
Multiple nozzles spray water evenly onto ground coffee ensuring full saturation of grounds
Drip stop for pouring a cup while brewing
Special setting to maximize flavor when brewing 1 to 4 cups
Charcoal water filter removes up to 82% of chlorine and other impurities from tap water
Coated, non-stick warming plate
2-hour keep warm with auto safety shut-off
External water level indicator for easy filling
Stainless steel housing
How Things Work
Sleek and stylish, the SG300 features a stainless steel machine body that will look gorgeous on any kitchen countertop.  Any easy-to-read external water level indicator and fully programmable LCD display makes brewing coffee a breeze.  The reusable GoldTone filter and glass carafe with brew though lid and drip-free pouring spout are dishwasher safe, making clean-up quick and easy.  The 1-4 cup setting extends the brew time for added aroma when brewing smaller batches of coffee. 
Name:
SG300 12-Cup Stainless Steel Coffee Maker with Glass Carafe
Model #:
#434.05
Includes:
GoldTone filter 
Charcoal filter
Watts/Volts/Hertz:
1000W/120V/60Hz
Color:
Stainless steel 
Safety Approval:
ETL Listed
Machine Weight:
5 lbs.
Dimensions:
L-9" x W-6¾" x H-13½"
Warranty:
1 Year Limited Warranty for Household Use
Country of Origin:
Made in China