Capresso MT900 10-Cup Rapid Brew Coffee Maker with Stainless Steel Thermal Carafe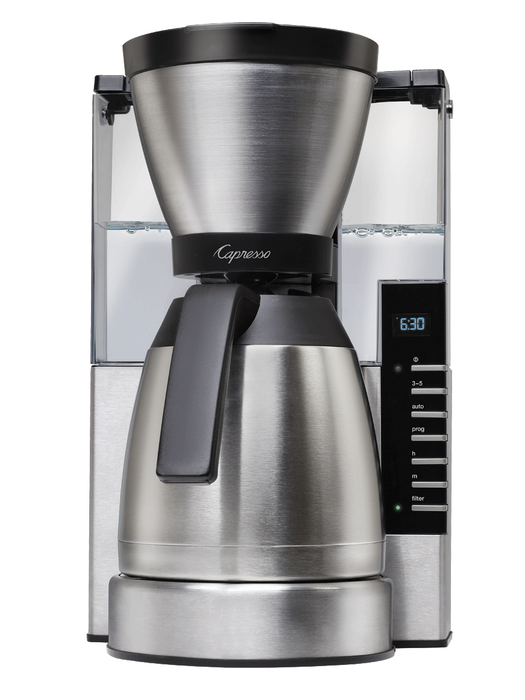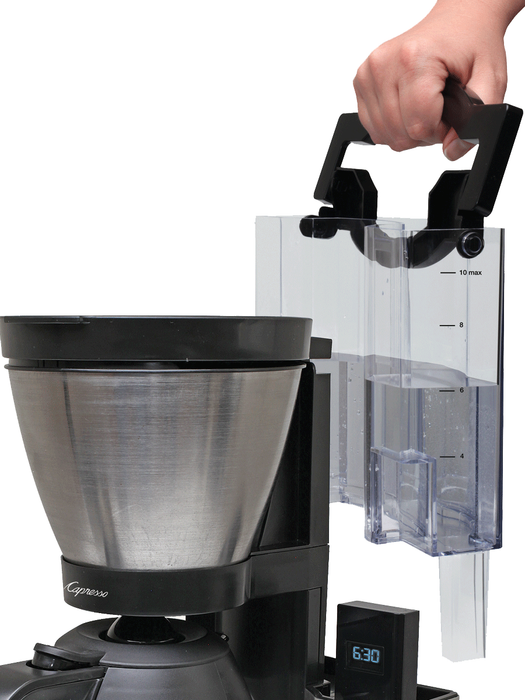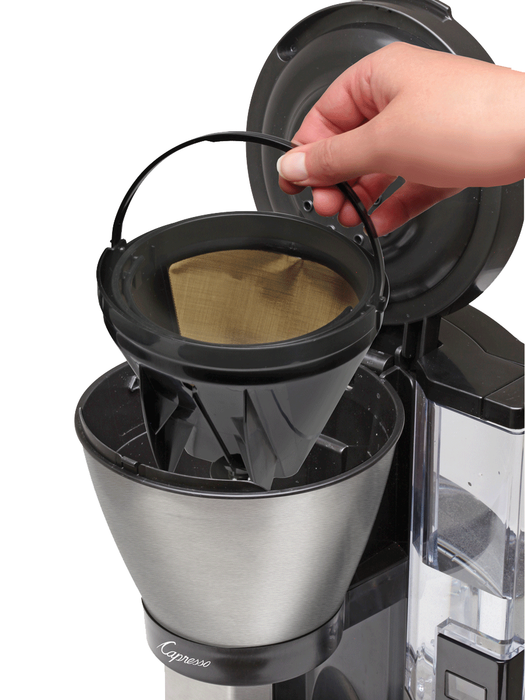 Features and Benefits
Stainless steel-lined heating system eliminates contact with aluminum and reduces the need for decalcifying
Brews 10 cups of coffee in under 7 minutes for maximum flavor and aroma
Stainless steel housing for superior strength and style
GoldTone filter is easy to clean and eliminates the need for paper filters
Removable 50-oz water tank
Extra-large showerhead design fully saturates ground coffee, ensuring best extraction
Drip stop for pouring a cup while brewing
24-hour programmable LCD clock/timer
Retains all programming during short power outages up to 10 seconds
Special setting for maximum aroma when brewing 3–5 cups
Safety auto shut-off after brewing
Charcoal water filter
Electronic filter indicator shows when to replace the charcoal filter
How Things Work
Brewing a great cup of coffee is a science. The amount of time the water is in contact with the coffee grounds directly relates to the final taste of the brew.  The MT900 coffee maker brews coffee in less than one minute per cup which means coffee will never be over extracted or bitter.  The extra-large sized showerhead ensures that the coffee grounds are evenly saturated for perfect extraction with each brew.  The removable water tank is completely visible without having to move the machine. The stainless steel thermal carafe keeps coffee hot and fresh for hours. A charcoal water filter is included with the machine, and an electronic counter registers how many pots of coffee have been brewed.  Once it is time to replace the filter, an automatic LED light illuminates to alert you to make the change.
TIP: Once the charcoal filter is wet, certain cleaning agents will diminish over time. Replace the charcoal filter at least every six weeks or when the indicator light blinks, whichever comes first.
Name:
MT900 10-Cup Rapid Brew Coffee Maker with Stainless Steel Thermal Carafe
Model #:
#498.05
Includes:
GoldTone filter
Charcoal filter
Watts/Volts/Hertz:
1200W/120V/60Hz
Color:
Stainless steel 
Safety Approval:
UL Listed
Machine Weight:
8 lbs.
Dimensions:
L-9" x W-8½" x H-14"
Warranty:
1 Year Limited Warranty for Household Use
Country of Origin:
Made in China